How To Make Money As a Yoga Teacher?

Yoga is gaining popularity, and many people lean toward it and find it more beneficial than exercising in the gym for better health.
According to Yoga Alliance and Yoga Journal, the number of yoga practitioners in the United States increased from 20.4 million in 2012 to 36.7 million in 2016. And it's only going up.
Because of this trend, the demand for experienced yoga teachers is rising.
Teaching Yoga for a living is one of the most rewarding and fulfilling careers. It allows you to combine your passion for helping people with your love of Yoga, allowing you to make a positive difference in the lives of your students.
Even though many people may not think of money when they think of Yoga, it is possible to turn your love for the practice into a lucrative career.
You can earn real, sustainable money as a Yoga instructor. If you're wondering how to make money teaching Yoga, this guide is for you.
In this article, I'll explain the ten best and most fascinating ways to make money as a Yoga teacher in the coming months and years.
So, let's dive right in!
Things You Need to Know Before You Start
Before we get into our different ways of earning money as a Yoga teacher, let's discuss some essential things you will need to start on the right foot.
Know Your Worth
One of the most important things to remember as a Yoga teacher is to know your worth. You don't need to charge too much or too little, but you should ensure that your work is appropriately valued.
You need to know the value of your expertise and charge accordingly. What's your qualification? How much time and energy do you put into your work? You must ask yourself all of these questions.
Simply put, what would make being a yoga teacher worthwhile – not only for you but also for your students?
Don't take Yoga teaching jobs that don't reflect your value or align with your time or effort.
In contrast, you shouldn't charge too much. If you do this, you might lose money in the long run. Instead, consider your expertise, how much time and energy you devote to your work, and what your target clients can afford.
Get Quality Yoga Teacher Training
If you want to teach Yoga professionally, the initial step is to get quality Yoga Teacher Training.
This training will help you understand the basics of Yoga teaching, enhance your practice, and give you the confidence to work with different kinds of students.
Make sure to choose a yoga school certified by Yoga Alliance, as it will help you get a job in the future.
My recommendation for an excellent online yoga teacher training program is Flow State Yoga Institute. Accredited by the Yoga Alliance, It offers three Yoga teacher training programs, including 200-hour, 300-hour, and 500-hour yoga teacher training programs.
These programs are comprehensive and designed for experienced yoga teachers to gain more knowledge about different aspects of Yoga.
So what are you waiting for? Join our Free Masterclass today!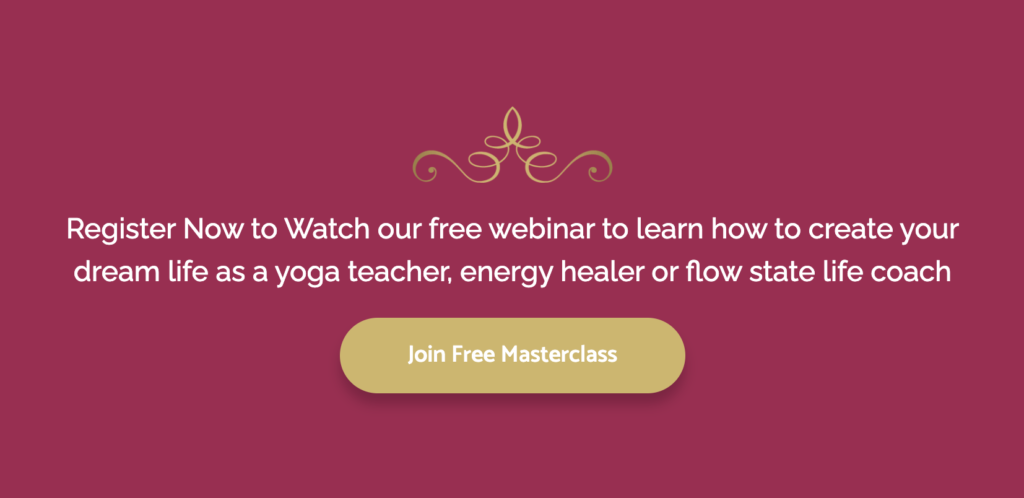 Refine Your Niche
Yoga is a very diverse field, so there are many niches that you can go into. However, if you choose the most popular ones instead of focusing on what you enjoy, this may not work in your favor.
Thus, focus specifically on one style of Yoga that you excel in and that your target market wants to learn and grow.
It doesn't mean you can't teach more than one type of Yoga. But don't spread yourself too thin by trying to be all things to all people.
Knowing yourself, what you are good at, and what your clients are looking for can make you stand out from the competition locally and online.
If you become an expert in one type or even more types of Yoga, you can carve out a particular niche and become well-known for that type. It will help you stand out and grow, even when the yoga market feels saturated.
Refining your niche this way can make a lot of money.
Go Online!
As we all know, the pandemic has changed the way we do business. You'll need to create an online presence to make money as a Yoga instructor. Building an online brand is essential for the success of your business.
The internet is the first place many potential clients will look for a service or reviews on your business.
Therefore, you need to create an online platform to share information about yourself and the Yoga classes you offer and provide value for your potential students.
It can be in the form of a website, blog, or social media channels. You can write yoga blog posts, create YouTube training videos, and market on social media platforms like Instagram, Facebook, and Twitter.
Remember, you must be consistent and present to be successful online.
10 Ways To Make Money As A Yoga Teacher
Here are the ten best ways to make money online and offline as a certified yoga instructor:
Teach Yoga Classes At Local Colleges or Corporate Events
The traditional way to make money as a yoga instructor is to teach Yoga classes at physical locations. You can reach out to local colleges, universities, and businesses offering yoga classes as part of the curriculum or corporate events.
Since studies and work are causing students and employees stress, so many managers are promoting mindfulness and balance.
Teaching Yoga classes at these places offer a steady income and great exposure for your services.
If you live near these people, offer your services directly to them. Doing this will increase your revenue stream, market your services, and help you grow.
Additionally, you can teach Yoga classes in gyms, hospitals, hotels, and resorts.
Teach Private Classes
One-on-one classes are a great way to make additional income as a yoga teacher. You can market yourself and reach out to the people in your area.
It can be highly beneficial depending on your yoga teaching style and your student's preference.
Additionally, you can offer personalized advice to your students that may not be possible in group settings. Students can feel more comfortable and safe in private yoga classes.
Unlike group classes, you can set your hourly rate like a personal trainer. In addition, they can work around your schedule.
Teach Live Yoga Classes
With the rise of technology, teaching Yoga online has become popular. That's because it makes Yoga accessible to people who cannot join an in-person session.
With the proper knowledge, equipment, and internet connection, you can teach Yoga classes online using video conferencing services like Skype or Zoom. And clients pay for the link to join.
You can also use streaming services like YouTube and Twitch to broadcast free yoga classes.
Become A Brand Ambassador
If you want to make money without teaching, you can become a brand ambassador or affiliate marketer for yoga apparel companies, yoga retreats, or lifestyle brands.
In this process, Yoga teachers market other people's products and services and earn a portion of the profit every time someone purchases through their link or promotion.
You can also receive free products in exchange for promoting them or earn commissions on sales. You can even negotiate better deals with the companies if you have a large following.
Start A Youtube Channel or Podcast
If you have an online presence and a good following, creating your own Youtube Channel or podcast is another excellent way to make money as a yoga teacher. By offering free yoga classes and talks on mindfulness and spirituality or advising people looking for guidance.
You can earn money through affiliate marketing, and getting sponsorships from yoga apparel companies, supplements, and lifestyle brands. You can even monetize your channel by joining the Youtube Partner Program.
Own Online Yoga Studio
Online yoga studios are one of the best ways for certified yoga teachers to make more money. In other words, you create an online video streaming service, or "hub," that serves as an online studio.
Here, you can teach Yoga the way you want. With this video hub, you will be able to:
Provide easy-to-follow Yoga courses
Build an online Yoga community
Connect with your students directly
This type of business model is infinitely scalable because everything exists online. You can motivate, help, and connect with unlimited students.
Yoga teachers or instructors who run online yoga studios and offer online yoga lessons earn an average of $5,500 per month.
Write Books And Blogs
In addition to being a Yoga instructor or teacher, if you are passionate about writing and sharing content, this option is definitely for you.
You can write about your experiences teaching Yoga, share advice on health and wellness in a blog, or create and publish your book about yoga techniques.
You can also create e-books and sell them on your website or online platforms like Amazon and Kindle.
Furthermore, you can become a freelance writer and write Yoga content for online yoga publications. The more you write, the more opportunities you will have to interact with people in the yoga industry.
Create Your Own Online Training Program
The world has become more digital, and people are seeking online education to learn. If you have a knack for teaching and want to reach a wider audience, creating an online Yoga training program or workshop is an excellent way to make money.
One can offer videos and step-by-step tutorials, practice exercises, and meditation techniques to students. Also, you can also provide personalized advice via online chat or email.
In addition to that, You can either develop your signature training program or a Yoga Alliance-certified one. You can charge a flat rate for the entire program or provide a subscription-based model where students pay for access to your content.
Take Advantage of Your Instagram Profile
In today's world, Instagram is a huge part of the Yoga world and a great platform to connect with potential students. So, harnessing Instagram's power and influence is a great idea.
You can use Instagram to offer online yoga classes, tips, and tricks to help students get the most out of yoga practice.
When your Instagram account reaches a good number of followers, you can then influence people towards buying your course or product and that can help you monetize your account easily.
It will also act as a landing platform for your audience where you can promote products related to Yoga and wellness or offer sponsored posts for yoga apparel companies, health supplements, and lifestyle brands. You can even promote your blog on this platform.
Design And Sell A Yoga Product
Another great way to make money as a yoga instructor is to sell a product related to Yoga. You could design and sell your own yoga product that serves the yoga community.
It can be anything that you feel helps you on your yoga journey and may also be helpful to others. For example, you can create a line of yoga apparel, mats, or special accessories and sell them through platforms like Etsy and Amazon.
You can also create and sell digital products like yoga programs, instructional videos, or guided meditation sessions.
How Much Do Yoga Instructors Make?
How much money yoga instructors earn depends on several factors, including their experience level, the location where they live and teach, the type of classes they offer, and how many classes they teach in a week.
The average yoga instructor's salary in the United States is around $58,500 per year or $28 per hour.
According to Talent.com, most experienced and successful yoga teachers in the USA earn up to $92,625 annually, and entry-level yoga instructors make around $40,965 annually.
Final Thoughts
Making money as a Yoga instructor is achievable and possible. There are numerous ways for yoga teachers to make money, such as teaching classes in-person or online, writing books and blogs, creating online training programs, leveraging Instagram, and designing and selling products.
With hard work and dedication, you can make a good living as a yoga teacher and build a successful yoga business.